Advanced requirement management – What is required?
Published 17.06.2022
Platom's experts Ville Nurmilaukas, Tuomas Kantola and Janne Valkonen participated in the IAEA Technical Meeting on "Development Considerations and Life Cycle Management Approaches for Nuclear Facility Instrumentation and Control Systems", 14-17th of June 2022. About 50 participants joined the event at Fortum headquarters in Espoo, and about 10 participants joined virtually. Countries as Armenia, Brazil, Canada, China, Czech Republic, Egypt, Finland, France, Germany, Hungary, Republic of Korea, Pakistan, Russia, Spain, Türkiye , UAE, and United Kingdom were represented in the meeting.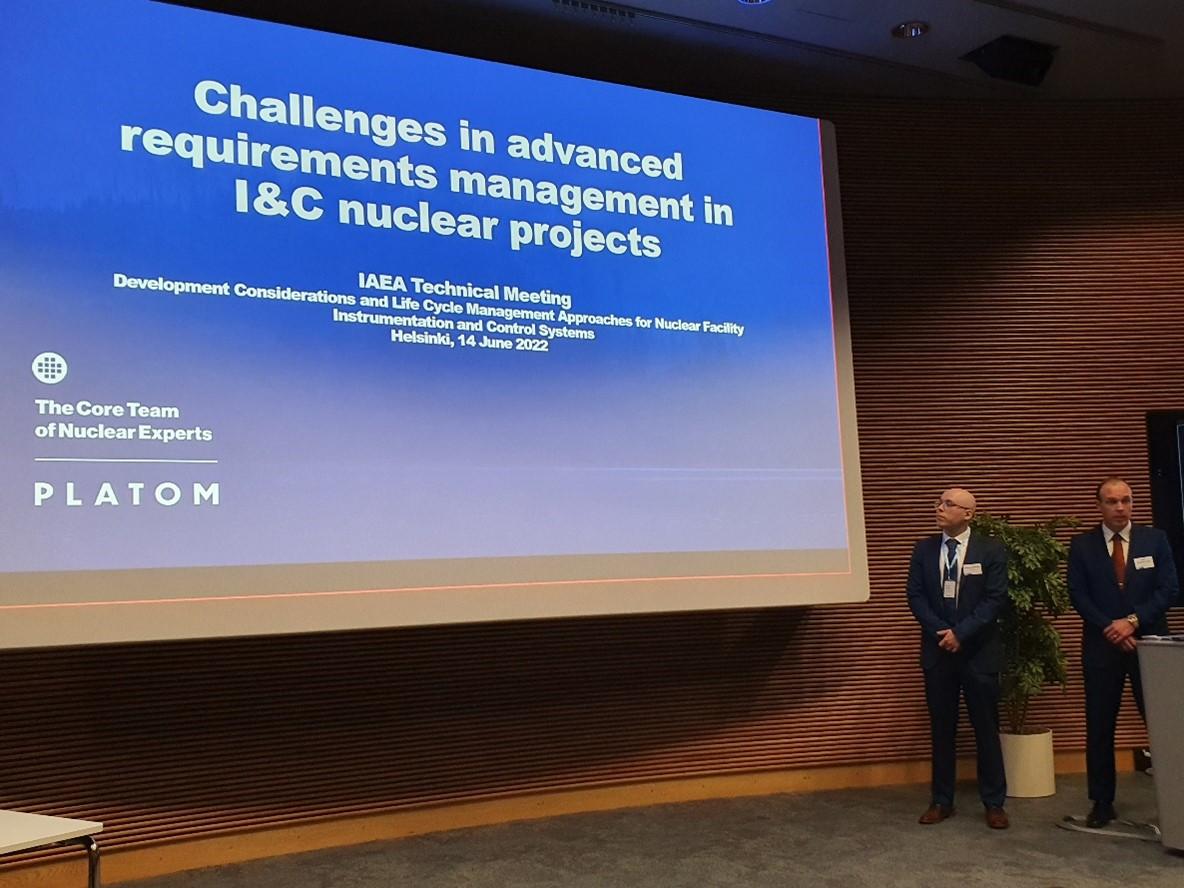 Ville and Tuomas gave a presentation on "Challenges in advanced requirements management in I&C nuclear projects", where they raised main observations about what kind of challenges are likely to appear in requirements management when applying advanced methods and tools. Contents of the presentation were:
What is the connection between requirements and configuration management?
Why do we need requirements management tools?
How to plan the deployment of a requirements management tool?
Traceability between requirements and documentation – how and why?
How to handle the challenges in identification/decomposition of requirements?
How to treat the process requirements (alias procedural requirements)?
How to understand the requirements management as part of the overall design process?
The main conclusion in the presentation was that requirements management and configuration management are not separated parts of the design process. Instead, they are the mainstream activities that actually shape the design process. Every single designer in the project must know and follow the requirements and configuration management procedures – it is not something that could be left only for a "specialist". Also, one should keep in mind, that the requirements and configuration management is a process that runs all the way through the project life cycle, from the beginning to the closure. It is not something you can apply only in the design phase and then move aside.
Platom is utilizing a professional requirements management tool Polarion both in commercial projects and also in internal development projects. Thus, the presentation also included important findings about what an organization should consider when deploying a requirements management tool, based on our own experience:
Deployment requires planning, time, and resources.
People should be dedicated to long-term development of the tool and requirements management procedures, as they are bound together.
Roles of the end-users must be defined based on their roles in the project concerned. User rights must be defined according to the roles. Task-based and role-based views and forms should be developed.
All end-users must be carefully and consistently instructed to maintain integrity and correctness of the requirements database.
There must be organized training and long-term support for the end-users to ensure they are able to use the tool and that they get help when they need it. Otherwise, much of the potential of the tool may remain unused.
Other meeting participants' presentations covered topics such as I&C lifecycle management, ageing management, requirements engineering, systems engineering and experiences in I&C modernizations in nuclear facilities. First half of the four-day event was dedicated to participants' presentations, and the second half was for working on the IAEA draft document "Life Cycle Management Approaches For Nuclear Facility Instrumentation And Control Systems".
In addition to well-prepared and very informative presentations, the event provided a great opportunity to meet old colleagues, as well as to create new connections to nuclear I&C experts all around the world!